Host
Todd McKenny
Broadcast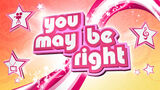 Seven Network: 13 August 2006 - 3 September 2006
Packager
dSPBeyond
Seven Network
You May Be Right featured two teams of celebrities pitched against each other as their knowledge of classic movies, music and television is put to the test.
The format pitted two teams of celebrities against each other, testing their knowledge on movies, music and television. Among the games involved in the show are: 
Check It Out
Crate Expectations
Face Race
Looney Tunes
Slay That Song
What Happened Next
Criticism
Edit
The show was heavily criticized for its obvious similarities to ABC's Spicks and Specks.
Diary has not heard of a good word about Sunday nights premiere of You May Be Right on Seven. Hosted by Todd McKenny, the panel show looked cheap and was not a patch on ABC's Spicks and Specks on which it was based. On ABC Radio in Sydney callers were outraged that Seven had pinched the show from Aunty. On one of the first episodes of Spicks and Specks taped after You May Be Right's cancellation, host Adam Hill introduced the show by saying: "Welcome to Spicks and Specks, the music quiz show that may be right".
Production Problems
Edit
Seven bosses ordered a major overhaul, including new sets and lighting after the first show was plagued by embarrassing production problems. It took over four hours to tape the first one-hour shows, due to various technical problems, faulty buzzers, over-running segments and host Todd McKenny's repeated flubbing of his teleprompter lines. Ten episodes were originally planned, but after declining ratings the show was cancelled within a month of being on air.
Official Sub-site (via Internet Archive)
Official Website (via Internet Archive)