Hosts
James Brayshaw
Josh Lawson
Kelly Landry
Broadcast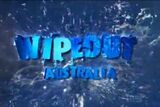 Nine Network: 3 February 2009-24 March 2009
Packager
Endemol Southern Star
NB: Not to be confused with the children's game show of the same name.
Wipeout Australia is based on the American format of the same name, in which contestants battled a large obstacle course in order to make it to the "Wipeout Zone" and try to win $20,000.
Wipeout Australia aired on the Nine Network in February and March 2009.