Host
Bob Moore
Broadcast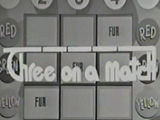 Seven Network: 1972-1973
Based on a U.S. format of the same name, three contestants competed to determine who could answer the most true-or-false questions in one of three categories.
Same as the U.S. version along with its set. However, the question and board values were divided by ten; meaning each pot was worth $1 per number of question. Also, the prize board was played as a standard end game; with a vacation as the top prize.
The show was dubbed as "Australia's first colour game show" even though most Australian shows were still in black and white during that time.
Main - "Happy Girl" by Alan Hawkshaw
Based on the American game show of the same name by Bob Stewart
YouTube Links
Edit
Parts of a May 1973 episode
Part of the opening and Round 1
Bonus Round and Closing of the show