Hosts
Mike Meade (1985–1991)
Sofie Formica (1993)
Scott MacRae (1998–1999)
Co-Host (1985-1990 version only)
Melvin the Robot (a Tomy Omnibot)
Announcers
Gary Clare (1985–1993)
Lisa Barry (1998–1999)
Broadcast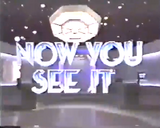 Seven Network: 1985–1993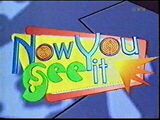 Nine Network: 1998–1999
Packagers
Fremantle International/All American Fremantle (1985–1993)
Beckers Entertainment (1998–1999)
Now You See It was a children's game show based on the American game show format of the same name.
The show originally aired on the Seven Network in Australia. It was hosted by Mike Meade and "co-hosted" by a Tomy Omnibot robot named "Melvin" from 1985 to 1991, and pitted individual children against each other. Melvin's uncle Morton (slightly larger than Melvin) had his own segment on the show entitled "Morton's Mouldy Movies", in which Morton would narrate stories in a grandfatherly voice accompanied by footage from silent film shorts.
In 1993, the show was hosted by Sofie Formica, and ran as a week-long competition between two primary schools. The winning students in each episode would win individual prizes, and the overall winning school would win a larger prize, typically valued at around $2,000.
In 1998, Beckers along with Fremantlemedia revived the show. Broadcast on the Nine Network, it was hosted by Scott MacRae and produced by Tony Ryan, with Bill Davidson as Executive Producer. In 2000 the show was replaced with Download, also hosted by McRae.
Line Games
Edit
The host read a clue, and the answer was revealed one letter at a time, sometimes using one or more letters of the previous word. Letters were revealed until someone buzzed in and gave the correct answer and score or if only one letter was left in the word. Each subsequent word used one or more letters of the previous word. The first player to guess five words (seven from 1998 to 1999) correctly won the round and a prize package.
Two line games were played and the winners of the two line games played the Big Board round.
Big Board
Edit
The host read a question and the first player to buzz in guessed the line number. If correct he/she then gave the position number and the word. The score achieved was based on the line number and position of the first letter (e.g. Line 3, Position 7 would result in ten points). From 1998 to 1999, the point values doubled during the last minute of the round. The player with the most points when time ran out won the game.
Solo Round
Edit
The solo round player needed to find seven words with the help of the clues read by the host.
Pics (1998)
Edit
Pics (1999)
Edit
Merchandise
Edit
A board game was once released by Crown & Andrews in 1993.
Main Theme (1985) - It used the commercial cue from the American version, by Edd Kalehoff. (As a side note, this was also used as the theme for a regional version aired on Scottish Television in the United Kingdom.)
Based on the American game show of the same name by Mark Goodson and Bill Todman.
References
Edit
YouTube Links
Edit
Full Episode from 1985
Matt Toomey