Hosts
Mike Goldman, Bree Amer & Ryan 'Fitzy' Fitzgerald
Broadcast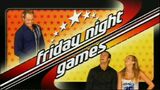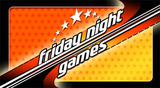 Network Ten: 17 February 2006-21 April 2006
Packager
Endemol Southern Star
Friday Night Games a Spin-off of Big Brother Australia's Friday Night Live, teams competed week by week to enter the final showdown and donate the $50,000 prize to the charity of their choice.
Two teams, each composed of three celebrities and one chosen contestant (dubbed the "celeb-to-be") competed and tested skills in a series of games and challenges. each game had a different set of rules and difficulty rating.
The "Celeb-to-be" was chosen out of hundreds of applicants, most being eliminated through challenges until a final challenge on the Friday Night Games set. Including holding onto a balloon whilist riding "Wipeout" or holding a piece of paper above their head whilist riding on the Tower of Terror (a roller coaster at Dreamworld) without ripping it.
The ultimate Friday Night Games champion team won a $50,000 donation to the charity of their choice, courtesy of Supercheap Auto.
During each game there would be a referee (or ref for short) for which the crowd booed at. At the grand final, the ref was booed off-stage and The ref gave the crowd "The Finger" However, this was edited out.
Each episode was pre-recorded in front of a live audience at Dreamworld's games arena and aired on Friday Nights.