Host
Ed Philips
Announcer
Michael Pope
Broadcast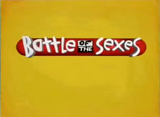 Network Ten: 1998
Packager
Beckers Entertainment
Battle of the Sexes Was originally a radio quiz segment, whereby one male and one female contestant would compete answering trivia questions. A leaderboard by gender was kept from day-to-day. Then it became a board game in 1997. And finally in 1998 the concept was converted into a short-lived television show on Network Ten hosted by Ed Phillips. It only lasted for two series with the girls winning them both (25-24 and 25-21). The number of episodes depended on the number of wins it took to get to 25.
The game was played by two teams one of men and one of women with a civilian and a celebrity in each. Then they were asked questions about things to do with the opposite sex
The losing team on the show was given a punishment they had to perform at a later date in the series either by coming back or video tape of it.
Press Pic
Edit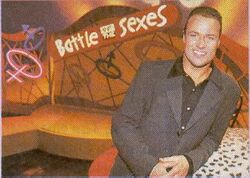 Channel 9 personality Jules Lund was on the show as a civilian contestant
Main - "Macho Man" by The Village People
YouTube Link
Edit