Hosts
Sandra Sully (2004–2006)
Samuel Shaed (2004–2005)
Broadcast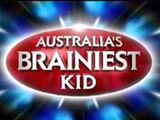 Seven Network: 2004
Network Ten: 2005–2006
Packager
Crackerjack Productions
Australia's Brainiest Kid is based on the U.K. format Britain's Braniest Kid, talented children from all over the country wage a battle of epic proportions to determine once and for all who is "Australia's Brainiest Kid".
11 and 12 year old kids coming from all over Australia, have their knowledges thoroughly tested to see who can ultimately be crowned as "Australia's Brainiest Kid".
Australia's Brainiest Specials
Edit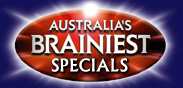 Network Ten's special include celebrities that often know each other from the work they do, often actors or people from another Network Ten programme, playing against each other, with the winner given the opportunity to donate money to a charity of their choice.
The 14 special series includes Australia's Brainiest...
Comedian
TV Star
Quiz Master
Housemate (Big Brother Australia Housemate)
Radio Star
Olympian
Musician
Neighbour (Soap Opera Neighbours)
Footballer
Cricketer
Loser (The Biggest Loser)
BB06 Housemate (Big Brother 2006 Housemate)
Comedian 2
Idol (Australian Idol)